Magnesium is a mineral found almost everywhere in nature. In people, too, magnesium provides energy; the more a person has to work the more magnesium he or she requires, since this mineral is involved in more than 300 metabolic processes in the body.
In addition to the fundamental importance of this mineral for cellular energy metabolism, magnesium also plays an essential role in the structure of various cell components, such as cell nuclei cell walls, etc., as shown.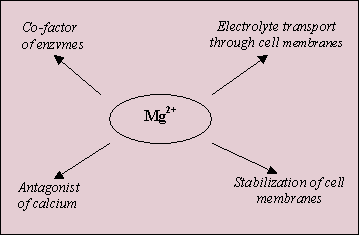 Magnesium is an essential co-factor in many enzyme reactions in human energy and protein metabolism, its involvement as an intracellular catalyst in vital processes extends from glycolysis to the tricarboxylic acid cycle and to DNA synthesis.
Magnesium supplementation may provide a new therapeutic approach to reducing vascular disease in diabetic conditions.
From the great variety of magnesium's biological functions and their importance for the human body, it is vital to have an adequate supply of this element and that a deficiency will inevitably have serious consequences.